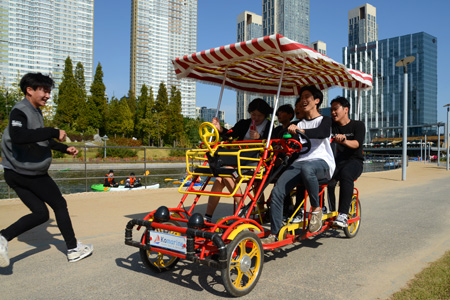 Kids enjoy a pedal-ride around Central Park lake, Songdo - Photo: Vijay Verghese
I CONSIDER myself pretty smart. So when my iPhone suddenly dies along with all my secret assignations and embarrassing emoticons, I don't holler and tear my hair as many others might. I pick up the device and observe the blank screen with scientific dispassion. Then I holler loudly, tear my hair, and hurl the phone on the bed. I did the same to my younger brother for years and he turned out okay, if a tad addled, to eventually run marathons in sweltering 40C India.
South Korean kids, however, leave us all in the shade. They regularly post the highest scores in the world on math aptitude and IQ tests. Yet there is one thing even smarter than a South Korean five-year-old, and that is a Korean style 'smart' home. In 'intelligent' homes, fibre-optic networks, retina recognition, fingerprint scans, and WiFi, trigger your favourite TV channels and preferred room temperatures and lighting as you arrive home. No need to think.

Vijay Verghese
---
On a vast screen here you can theoretically spot where your children are located (through chip-implant bracelets) and where cars are parked. Not quite yet, but almost. Is this shades of Big Brother or just the next step in ramped up efficiency as smart-city advocates aver?
In Songdo International Business District (songdoibd.com/), the brighter half of Incheon (which also hosts Incheon International Airport that serves Seoul), an entire smart city has arisen driven by exceedingly clever computerised neural systems that manage everything from pneumatic waste disposal – through pipes that deliver organic and non-organic waste, separately, to incinerators – to education, via LCD screens and videoconferencing with top teachers around the world. Yet, at top Songdo business hotels and Incheon conference centres it may be hard to come by an adaptor for your iPhone in a hurry, or a perk-me-up cappuccino.
At Cisco's (newsroom.cisco.com) state-of-the-art office in the gleaming POSCO tower at one end of Central Park – yes, this is directly borrowed from New York – computers monitor the population's movement, pulse, and needs. On a vast screen here you can theoretically spot where your children are located (through chip-implant bracelets) and where cars are parked. Not quite yet, but almost. Rude motorists begone. It's a bit like a real-time The Sims virtual game with one difference. This is for real.
Is this shades of Big Brother or just the next step in ramped up efficiency as smart-city advocates aver? After all, that's where technology is leading us.
Efficiency and healthy leisure pursuits are certainly abundant. Citizens of this custom-built town rarely need to walk more than 15-20 minutes to reach work, and this through the invigorating green lung of Central Park with its manicured gardens, scenic strolls, jogging trails, majestic foliage, and captive deer, all set around a two kilometre seawater canal and lake. Bridges arc over the water as paddleboats and kayaks glide across this inviting expanse. Of an evening or on weekends, day-trippers and local families careen around on twosome or foursome bicycles with the sound of children's laughter mingling with birdsong amid the tall wild grass that covers much of the place. It's an idyllic and fun setting peppered with innovation and irony.
There are no discernible waste bins in the park, or on street corners – which will give visitors pause – as all waste is automatically recycled. Images of lost children may one day be flashed on video walls to alert passers-by. Cameras on street lamps will detect accidents or a fracas and alert first responders. And Nintendo Wii style video walls will read hand and body actions for you to activate maps, information, and 'concierge' chats for some face-to-face human advice. Cisco terms it the 'internet of everything'. It almost is.
Songdo IBD is the archetypical meticulously planned city of the future envisioned by The Jetsons or, more darkly, Blade Runner, a future that is now, but still strangely absent.
Wondrously, there is no traffic to speak of (taxis are not easy to spot), pavements are broad, tree-lined, and unpeopled, and park-view homes retailed for US$400,000 to US$5m for 2,000sq ft even before they rose from the ground reclaimed from the sea flats. Home prices remain high as people move out of congested cities to the south, seeking more space and green environs for young families.
The city's pride and joy is its 18-hole (par 72; 7,413-yard) championship course run by the Jack Nicklaus Golf Club Korea (jacknicklausgolfclubkorea.com/). Designed by golfing legend Jack Nicklaus, in October 2015 this brand new course hosted the first ever Asian tee-off for The President's Cup (USA vs the Rest of the World), a classic display of alpha male swagger, limber backs, strident national anthems, and beer, kicked off by former US President George W Bush and chaperoned by South Korea's hugely popular President Park Geun-hye. More green and walking trails are available at two smaller parks downtown, Michuhol Park and Haedoji Park.
Bluff, blustering, always beaming, and larger-than-life Stan Gale, a one-time rising soccer star turned developer, heads New York-based Gale International (www.galeintl.com/), a prime Songdo IBD catalyst. To describe him as a typhoon of energy, bonhomie, and resolve, is an understatement. He was brought in to help fashion this US$35 billion planned city along with steel conglomerate POSCO (www.posco.co.kr), and Incheon Metropolitan City, with help from engineering behemoth ARUP (www.arup.com/).
It was Stan who convinced sceptical city officials that 100 acres be set aside for a central leisure space with a further 200 acres for golf. "They literally fell off their stools," he jokes. This was, of course, prime land downtown where flat and office sales could speedily recoup investments.
Kohn Pederson Fox (www.kpf.com/ known for its iconic designs including the 'bottle opener' Shanghai World Financial Center (that houses the Park Hyatt), unsurprisingly wrought a similar towering marvel for NEATT (North East Asia Trade Tower), home to several Songdo biggies and with an unrivalled view that stretches for miles across the 1,500-acre development with a population of 36,000 that will house some 70,000 residents and three times as many commuters by 2020 when complete. Much of this is in LEED-certified buildings. Such is the focus on environment and sustainability here that the Green Climate Fund (news.gcfund.org/) brought its secretariat to Songdo. The World Bank has a presence here along with several multinationals and biotech and I.T firms.
So is it actually possible to plan a city and get citizens to operate in the manner the computer models predict? And what happens when a city is smarter than its inhabitants?
Pneumatic underground pipes - not garbage trucks - collect waste from all buildings and transport it to a waste processing centre. Organic waste is taken to an incinerator where it creates energy. Incredibly, the entire waste management system is run by just seven employees
New York-based writer and critic, Lewis Mumford, a keen observer of the urban ethos, wrote presciently in 1946, "We must give as much weight to the arousal of the emotions and to the expression of… aesthetic values as we now give to science, to invention, to practical organization. One without the other is impotent." He could have been speaking about Masdar in UAE, or Songdo, South Korea.
What he meant was, city planning defies the logic of growth that is often haphazard and accidental, a cross pollination of random circumstance, idea, and necessity. Human beings have a tendency to break laws and create unplanned spaces that by definition ensure diversity.
How else could you pair the dense commercial labyrinth of Mongkok in Hong Kong with the privileged prattle of The Peak; the mayhem of Chandni Chowk in Old Delhi with the stately homes of Lutyens' New Delhi; or the clamour of Chinatown and Little Italy with the orderly greens of Gramercy Park in New York City
Cities develop their own unique character because of people and their preferences and patrician or plebeian taste. As Jean Jacques Rousseau wrote in his seminal 1762 The Social Contract, "Houses make a town, but citizens make a city." Still, intelligent pre-packaged cities are here, perhaps to stay.
But there are other issues to consider. Ashok Raiji (Principal, ARUP), describes below how the liability of waste has been transformed into an opportunity with careful planning. Says Raiji, "new Songdo City is a new a sustainable planned city on the west coast of Korea about 60km from Seoul. The notion of a new city to relieve the urban density of Seoul and neighbouring Incheon City began in the late 1990s and early 2000s during which time the city infrastructure plan was being developed by the Incheon Free Economic Zone Authority (IFEZA). Recognizing that a sustainable city starts with green infrastructure, they went about planning and building many basic city services in an environmentally friendly way.
"A new train connection between Songdo, Incheon and Seoul was planned and built; a new combined heat and power plant providing electricity and thermal energy to Songdo was developed; a new state of the art waste water treatment system was installed, and clean water from the waste treatment plant was distributed back to the city for non-potable water uses such as irrigation of parks.
"Last but not least, a citywide automatic pneumatic waste collection and management system was conceived. Waste from cities has historically been a liability. Several decades ago most waste ended up in landfills creating pollution, adverse health impacts, and the notion of NIMBY (not in my back yard). When recycling took hold, the burden on landfills decreased as some of the waste (glass, metal, plastic and paper) was recycled into new products. Songdo's pneumatic waste collection system takes this to the next step. It's more a giant leap.
"The city has a network of underground pipes that collect household waste from residential, office and other buildings and transport it to a waste processing centre. There, items that can be recycled are separated and recycled, organic waste is taken to an incinerator where it is combusted to create energy, and the small amount of remaining waste is placed in a landfill. Incredibly, the entire waste management system is run by just seven employees.
"The use of this automatic waste collection system results in not needing garbage trucks making the rounds of the city as would be the case in a conventional system. In addition, energy that is embodied in the waste is liberated and converted into usable energy. Songdo's waste management system maximizes the efficiency of waste management and contributes to the reduction of Songdo's environmental footprint. Waste is no longer a liability in Songdo. It is an asset from which energy is produced and impacts on landfills are reduced."
---
Vijay Verghese started out as a reporter for the Times of India, a national daily, in 1979. He moved to Bangkok and thence to Hong Kong in 1984 as editor and publisher of a range of news, business, travel and lifestyle publications including Business Traveller, HOLIDAY Asia, and Asian Business. He launched Dancing Wolf Media in 2002 and runs the online magazines SmartTravelAsia.com and AsianConversations.com when not dabbling in avatars, music and virtual guff.