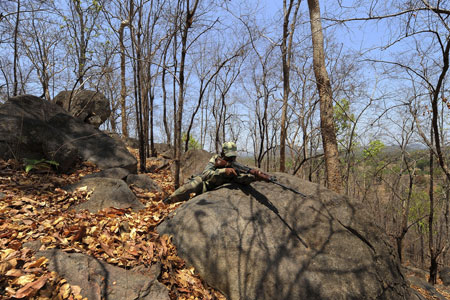 Indian police commando on a training exercise in the Chhattisgarh brush forests, an area plagued by Maoist unrest and clashes - Photo: Getty Images
THE DISCOURSE on dealing with the Indian Maoist problem keeps running aground. Dark suspicions and emotion cloud reason. Rehearsing the past does not answer the challenge of the future. Where then do we go from here as the Maoists keep tormenting state and society with people's war and class annihilation? One may quibble with words, but rule by fear is terror. The State has much to answer for, but it cannot abdicate. There is surely space for other mediating interventions catering to peoples' aspirations and anxieties that exists between dialogue, virtually rejected by the Maoists, and the maintenance of law and order, which appears somewhat ill-defined.
Despite the endless killings of police and civilians, the Centre has offered dialogue on all matters provided the Maoists abjure violence even without laying down arms. This has met with constant rebuff. Maoist preconditions include, among others, a suspension of operations in and withdrawal of security forces from an expanding Naxal arena, the release of incarcerated leaders, and an end to disinvestment of public sector undertakings. This ideological agenda dictated through the barrel of a gun simply will not work.

BG Verghese
---
Despite the endless killings of police and civilians, the Centre has offered dialogue on all matters provided the Maoists abjure violence even without laying down arms. This has met with constant rebuff
On the other hand, maintenance of law and order should be built bottom up with simply trained and armed village self protection units or SPOs (not the Salwa Judum which ran riot in Dantewada, (a badly Naxal-affected district in Chattisgarh), stiffened by the state police, who know the local language and culture, and supported by paramilitary or other security forces (not the Army or air power, which is different from air support). Without minimal security nothing will progress. The Rammohan fact-finding committee's indictment of the Central Reserve Police Force (CRPF) and the higher direction of internal security calls for serious strategic reflection and review.
Many talk of "root causes" such as prolonged neglect and disregard of land and forest rights. This is not untrue; but tiresome emphasis on socioeconomic development in an insecure environment without a clear framework of governance or delivery system will also not work. As in many insurgency-bound situations, peace and development cannot be sequenced but must go hand in hand to create a virtuous spiral.
We do not have to invent a new policy or structural framework. It is there in the Fifth Schedule of the Indian Constitution, reinforced by the Panchayat (village council) Extension to Scheduled Areas Act, 1996 (PESA), and the Scheduled Tribes and Other Traditional Forest Dwellers (Recognition of Forest Rights) Act, 2006, and article 275 of the constitution which guarantees funding for tribal welfare. These represent a constitution within the constitution for Tribal India and a solemn social contract that the Indian State has blatantly flouted over 60 years without remonstrance from any quarter.
The Fifth Schedule makes the governor the overseer of tribal rights and interests. Aided by a tribal advisory council, he is enjoined to make an annual report to the president with recommendations regarding development, tranquillity and governance in these areas. The president is required to place this report before parliament and to issue such directions as may be necessary to concerned states regarding future action. Governors lack any independent machinery for this task, of which most seem unaware, and send delayed reports routinely prepared by the local tribal affairs department which are then ignored by the Union government and parliament year after year. Possibly no single directive has gone out to any state in 60 years. Even today, in all the angry, emotional and largely empty debate that goes on, the Fifth Schedule has never once been mentioned. Ignorance and indifference rule the roost.
The delivery system barely exists. Fifth Schedule areas are punishment postings, understaffed, largely unsupervised and left to the whims and pickings of lowly foresters, contractors and rent seekers. Nothing similar to the single-line system that prevailed in the Northeast and other border regions with erstwhile Indian Frontier Administrative Service officers having domain knowledge and language skills, and empathy has ever been contemplated for these areas. Ad hoc, band-aid solutions will not do.
Access to many of these jungle fastnesses is not easy in the absence of connectivity and security. Roads, culverts, bridges, police outposts, transmission towers, railway tracks, buses and other infrastructure have been destroyed, development activity targeted and villagers, including children, press-ganged to do the Maoists' bidding. An elaborate system of levies and extortion is in place. Large scale area domination may be difficult all at once. But it should be possible to combine local security, development and growing intelligence with good governance, moving from the periphery to multiple cores that are gradually linked in turn.
There has been scornful criticism of development priorities especially with regard to large dams, mines, power stations, mineral based industries and related infrastructure. No modern nation can survive on a simple village economy without a more sophisticated industrial and service superstructure. Natural resources must and will be exploited and some land will inevitably be acquired. Transitions can be traumatic and must be suitably cushioned without surrendering to Luddites and eco-fundamentalists.
There has been scornful criticism of development priorities especially with regard to large dams, mines, power stations and mineral based industries. No modern nation can survive on a simple village economy without sophisticated industrial and service superstructures
A humane development path is more than crude touch-me-notism. There is nothing incongruent in promoting rapid development, vital for poverty alleviation, job creation and income generation, in parallel with improved farming, irrigation, upgraded crafts, value-added minor forest product processing, and small industries based on local energy sources and micro-credit combined, of course, with education, health and other social development.
These require appropriate infrastructure, technological inputs and management and marketing skills. Where are these to come from? The State must certainly play a leading role through new development and administrative cadres. NGOs could lend valuable support. A further potentially transforming element can be the much-maligned large steel, power, aluminium, mining and other corporates operating not as real or imagined robber barons out to plunder the natural wealth that abounds in Fifth Schedule areas, but under forward-looking regulatory frameworks. These are being progressively laid down in conformity with Fifth Schedule norms. There is an emerging paradigm for enhanced compensation , resettlement and rehabilitation (R&R), and stakeholder participation in equity and windfall profits and future downstream benefits, training for employment in the facilities created and including a percentage annuity from corporate profits for community development.
PESA and the 1997 Andhra High Court Samatha judgement provided for alienation of tribal lands and of mining leases under strict conditions and with the informed consent of gram sabhas (small village councils). Regarding mineral exploitation, the Supreme Court held that the competing rights of the tribal community and the State "required to be adjusted without defeating the rights of either" in the interest of national development. It has explicitly reiterated this view more recently.
Other things being equal, if Tata, POSCO or Vendanta persist with plans to invest vast sums in a greenfield mega projects (Vedanta Aluminium Ltd and the Orissa Mining Corporation plans were recently scuppered by the Centre), any company should, under the new rubric of enhanced corporate social responsibility, be willing and able to undertake suitable socio-economic development programmes on behalf of community stakeholders. By extending requisite power, water supply, communications, medicare and transport facilities to the community living beyond the immediate project perimeter, enable its own project to fructify.
To a corporation, time is money and a satisfied community a sterling asset. The State and community would through this route gain more funding, dispersed security, administrative, management and development muscle with popular participation than anything so far witnessed in these forgotten, wilderness areas. The spin-offs and multiplier effect would secure not just territory but hearts and minds in a new development paradigm of equal opportunity and inclusive growth with the welfare of tribals, dalits (untouchables) and other currently disadvantaged populations as a core concern.
---
Column reprinted with minor edits from www.BGVerghese.com / Veteran columnist, developmental journalist, author, and Magsaysay Award winner, BG Verghese started his career with the Times of India and was later Editor of the Hindustan Times (1969-75) and the Indian Express (1982-86). He was Information Adviser to the Prime Minister (1966-69), a Gandhi Peace Foundation Fellow for some years after the Emergency and Information Consultant to the Defence Minister for a short period during 2001. He is currently with the Centre for Policy Research, New Delhi.