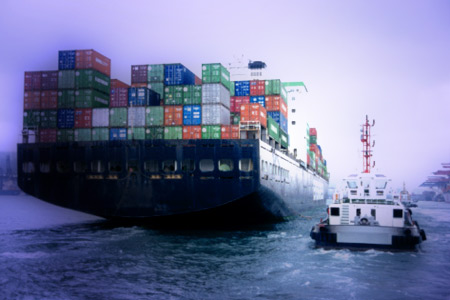 Container ship being escorted into Hong Kong by a tugboat. - Photo: Getty Images
WHEN you watch the behemoths of the oceans traversing their way into and out of the ports of Shanghai, Hong Kong or Singapore, your first reaction is likely to be amazement at the gargantuan scale of these vessels. Your next reaction would be to recoil in horror at how much black smoke is belching out of the funnels and wondering what is the subsequent impact of this foul pollution on the environment?
Many would say that shipping lines have escaped the wrath of the public, environmental agencies and watchdogs for many years because their vessels are for the most part on the high seas out of sight and out of mind of most of the world's population. But that situation is now changing.
Shipping lines are now under pressure to comply with a whole raft of legislation heading their way from the International Maritime Organisation, which aims to cut sulphur dioxide emissions from ships from 4.5 percent today to 0.5 percent by 2020. In addition, government environmental agencies in the EU and the US are also looking to legislate for cleaner greener ships calling in their respective jurisdictions.

Russell Green
---
Shipping lines are now under pressure to comply with a whole raft of legislation that aims to cut sulphur dioxide emissions from 4.5 percent today to 0.5 percent by 2020
As a consequence of the new legislation and regulations, shipping lines and ship owners are now looking to switch to cleaner fuels when in port, reducing the emission of heavy pollutants into the atmosphere when close to land. Longer term they are ordering vessels with more energy efficient engines.
In Hong Kong, a 2005 study by think tank Civic Exchange and two universities showed vessels around the Kwai Chung container port were responsible for more than a third of the sulphur dioxide emissions measured at the Environmental Protection Department's air quality stations. EPD figures also show that sulphur dioxide emissions from ships rose 16 percent between 2001 and 2005.
The shift to low-sulphur fuel while dockside is a small step but is also part of a wider shipping industry focus to cut emissions of carbon dioxide, nitrogen oxide and sulphur dioxide. It's a direction that could lead ultimately to significant changes in ship design and a broader range of fuels used at sea and in port.
Research is under way on several technologies such as wind and solar systems to augment the diesel main engines of vessels already in commercial service. Moves are also taking place to replace diesel with liquefied natural gas or nuclear power.
But the cut in emissions, together with the commensurate fuel savings, could climb to more than 800 million tonnes per year by 2030 if new technologies such as liquefied natural gas power and fixed sails were adopted.
Danish shipowner Norden is already working with Chinese shipbuilder, Jiangmen Nanyang Ship Engineering, to change the design of two 33,700 tonnes deadweight dry cargo ships. Norden senior vice president Lars Lundegaard said the changes involved using a bigger engine and propeller on the ships that are due for delivery by early 2012.
He said the move would cut fuel consumption and emissions by 10 percent, while a further 5.4 percent saving would result from other innovations such as hull paints.
However the most successful global action to date has been 'slow steaming', as the term suggests it means throttling back the engines and extending the ocean leg transit times to reduce fuel burn. To be fair, slow steaming was introduced when oil prices hit an all time high of around US$730 per tonne in July 2008 for the lowest grade bunker fuel, while low-sulphur prices were almost double the bunker price.
Now, container shipping lines, including OOCL, Cosco and South Korea's Hanjin Shipping have cut the speed of their ships from around 24-25 knots to about 14-15 knots. Maersk estimated that it saved about US$500 million and cut carbon emissions by 15 percent after introducing slow steaming at the end of 2009.
Other technological improvements have been made by carriers such as OOCL and French container shipping company CMA CGM on their large containerships to improve the efficiency of engines, propellers and hull paint.
Danish ship classification society Det Norske Veritas estimated the global shipping industry could cut its air emissions by 15 percent – equivalent to about 225 million tonnes per year – by adopting 10 existing technologies. These include cutting ship speeds, better voyage planning and improving propeller design and propulsion efficiency.
Maersk Line became the first in its industry to independently verify its carbon emissions vessel by vessel – a move that enables customers to track the environmental data along with other performance information about shipping lines.
The consequence for most shippers (manufacturers, importers and exporters) has been that they have had to factor in extra days into their supply chains when shipping goods to market. On the positive side many environmentally aware customers of Maersk Line will benefit from reducing their carbon footprints as a result of the carrier's initiatives.
More than 20 of the biggest container shipping carriers using Hong Kong port have said they'll switch to a low-sulphur diesel fuel from 1 January, 2011.
All well and good you may say, but shipping has struggled for centuries to win the hearts and minds of the public, and the latest barrage of criticism is a consequence of shipping hiding its light under a bushel for far too long.
Without an organized shipping industry international trade would grind to a halt, supermarkets and shopping malls would close as imported goods disappeared and factories would close as raw material and components are not delivered.
Now, container shipping lines have cut the speed of their ships from around 24-25 knots to about 14-15 knots. Maersk estimated that it saved about US$500 million and cut carbon emissions by 15 percent after introducing slow steaming at the end of 2009
The global economy means that manufactured goods in component or raw material form are shipped from all over the world for final assembly or processing. Parts from Taiwan, software form the US, textiles from Bangladesh, fashion good from Europe and wheat from Canada. They all have to be shipped in an affordable and timely manner to the next stage of assembly or processing before delivery to the showroom, retail outlet or supermarket.
Generally the only time the public has any interest in shipping is when rescue workers are scooping up oil-soaked cormorants from a beach in France. The fact is that shipping is a highly efficient well-run business that delivers day in and day out at a very reasonable cost.
The high cost of entry into shipping and the high running costs mean that only well-resourced companies with deep pockets can afford to buy, build and operate these vessels.
At a recent shipping conference in China an exasperated senior manager from a global shipping line, came under fire from shipper groups about rising freight surcharges levied by carriers. He hit back by saying that his company is going to invest HK$1 billion in new ships in the next five years in order to meet demand to ship their goods to market, for ever decreasing returns. What other business would countenance that scenario he asked?
Pilloried by customers, environmentalists, port operators and the media, shipping gets a bad rap from all and sundry. Despite the best efforts of ship owning groups such as BIMCO and various other international shipping groups, the industry has become the 'whipping boy' of popular opinion.
While the airline industry mitigates its polluting jet engines by citing its critical importance to international trade and travel, shipping lines can only point to shabby metal boxes clogging up ports and inland container depots.
High profile and sexy, airlines have been on a charm offensive since the get go. Hundreds of millions of passengers use airlines every year and will turn a blind eye to the filthy fuel airlines use and its toxic pollution so they can visit their loved ones, travel to exotic locations, or attend business meetings.
With the domain of cruising on the seas largely for the wealthy, sailing for pleasure will never compete with the popularity of flying. So shipping needs to get out a bit more and get the message out to the public that 90 percent of all goods are transported by ships and only 10 percent by air.
There are organizations like the World Ocean Council, which is aiming to build a coalition of the willing among maritime industries who demonstrate a commitment to collaboration and leadership in addressing ocean sustainability challenges.
They have a pretty impressive membership including oil companies, carriers, law firms and classification societies who in their own way can make changes that will help save the seas from a slow death. Shipping is the life blood of international trade and deserves to be recognised as such. Without this dynamic and vital industry we would be back in the Stone Age.
So, while legislation is needed to protect our environment, it is also worth noting that unless you want to wait months for your fridge or computer to be delivered, overland by road and train at twice the price you pay now, you may want to take another look at what the consequences would be if shipping lines ceased trading.
There is no more cost effective and environmentally friendly way of moving vital aid shipments to disaster hit areas of the world or food shipment to countries stricken by famine.
To look at it another way, for those of a certain age who remember Gerry Anderson's puppet-based series Thunderbirds, the world of transport can be divided into airlines, represented by Thunderbird 1, with dashing pilot Scott Tracy racing to the scene of a disaster within hours but only able to deliver a small payload.
Scott then has to wait for the slow but reliable Thunderbird 2 to deliver life-saving equipment and Thunderbird 4 for underwater rescues. Thunderbird 2 is (you guessed it) the metaphor for shipping and the not so good looking Virgil Tracy is the pilot, not as sexy as Thunderbird 1 but it delivers the goods and saves the day.
---
Russell Green is Managing Director of RTG Communications and has worked in the freight and logistics communications sector in Asia for almost 20 years. He heads a Hong Kong-based Public Relations and Communications consultancy, which has developed campaigns for a range of clients. Russell has served as a Senior Vice President, Corporate Communications for Hutchison Port Holdings-owned LINE, a supply chain management company, spent nine years with Cargonews Asia, four of these as Editor and Publisher. Keith Wallis, Maritime Affairs correspondent for the South China Morning Post also contributed to this article.