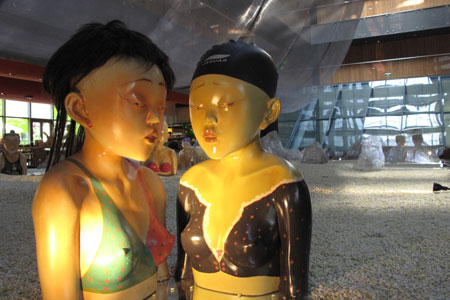 Quirky lobby art at Opposite House Beijing, sets it apart from others. Photo: Vijay Verghese
THERE comes a time in every man's life when the call of adventure beckons, quickening the pulse and focusing the mind. Thus it was one morning, in the footsteps of Sir Ranulph Fiennes, I decided to do something truly momentous. These are the defining moments that chisel a man, taking him far beyond the threshold of pain to a place of numb exertion as he strives to overcome unspeakable odds. I felt panic welling up inside, fought it, regained momentary calm – and reached across to pick up the hotel phone to dial the operator. "I can't find the light switch," I said.
Hotel design being what it is today, it is a minor miracle if any traveller can find a light switch – or any other brilliantly concealed contrivance – and successfully master it to accomplish something useful. Here the light options were simply, welcome, movie, reading, and romance. There was no single control for the bedside lamp. That would be Neanderthal. As new studies tell it, Neanderthals became extinct because they had far too large eyes – to absorb more light for the long winter nights – and this diverted critical brain processing power from more urgent exigencies like irate cavewomen with large clubs intent on bashing their men about the head. Less light can kill. Hence more light. Mankind has been preserved but I cannot turn on a bedside lamp.

Vijay Verghese
---
Let's leave aside the niggles of design and humbling toilet encounters where grown men weep trying to force suds out of shrink-wrapped soap, there is now such a proliferation of brands that it threatens to turn an honest holiday into a bewildering boondoggle
Are hotels becoming too clever?
Let's leave aside the niggles of design and humbling toilet encounters where grown men weep trying to turn on a faucet or force suds out of shrink-wrapped soap, there is now such a proliferation of brands and sub-brands, and minor brands that it threatens to turn an honest holiday into a bewildering boondoggle. The humble budget ibis hotel – that many of us have secretly slept in and loved – occupies the lowest rung of the food chain, yet it has reinvented itself, skilfully carving out three subsidiary brands of relative penury. Will have-nots take comfort in the fact that they can opt for a modestly "better" status, albeit still as a bottom feeder with the addition of a bright silk cushion that may later serve as triumphal proof on Facebook?
So you have ibis hotels for the drudge, ibis styles for the hip but impecunious who like green pillows, and ibis budget, which is right to the point, cheap. Any Ibis is a good choice for tired wallets but why split hairs when there's so little room to manoeuvre? All hotel brands woo different market segments by playing with price, design, facilities and service levels. Has it gone too far?
The Choice Hotels smorgasbord includes Comfort Inns, Comfort Suites, Clarion, Quality, Econolodge and five other brands under its marquee. That's a lot for a non-premium brand. It's a bit like subdividing airline economy class into 10 segments based on price, service and frills with the ones in the back rows berated every half-hour by bullying stewards in order to justify their deep discount tickets. This break-up is already happening and, unlike the continental drift, will not take eons to accomplish. Take a look at premium economy, which seems to be taking off simply because economy seats are so tight you'll get deep vein thrombosis simply looking at them.
The idea is not wrong but there is alarming wrongheadedness about the manner in which hotels have gone about defining – and catering to – customers, real and imagined. If this lemming-like stampede were on account of demand-driven design, it would be hard to argue with, but much is rash supply-driven silliness based on fads of property owners and design ingénues who believe "If it is there, it will be filled."
Consistency is the hallmark of any great brand, big or small, and a close match between the promise and the delivery, the expectation and the experience. Easier said than done.
Proliferation is the name of the game.
Marriott gets high ratings for consistency despite having a fairly large extended family that now includes a motley collection from Gaylord Hotels, Courtyard, Residence Inn and Springhill Suites to JW Marriott (the group's flagship benchmark billed as "Marriott's most elegant and luxurious brand"), The Ritz-Carlton (that always requires the definite article the is "a worldwide symbol for the finest in accommodations"), Autograph Collection ("strikingly independent"), Edition ("luxury boutique"), and Bulgari ("leading luxury hospitality"). You'll forgive any luxury explorer, discerning adventurer or business traveller (different terms for much the same species) for pulling out his hair and leaping, frothing at the mouth, from a tall building.
The sober Hyatt group incorporates in its fold a smaller though no less daunting array of personalities from the stylishly zen Park Hyatt and the imposing muscle-marble Grand Hyatt to the chi chi Andaz and down the pecking order past Hyatt Regency to Hyatt Place ("casual hospitality") and Hyatt House ("casual hospitality for individuals who want suite accommodations").
Starwood goes further with an arsenal of beds aimed at all manner of travellers (Sheraton), the hip and happy with attention deficit disorder (W Hotels), luxury travellers (St Regis), luxury travellers seeking distinctive experiences as opposed to less imaginative big spenders (Luxury Collection), refined Europhiles (Le Meridien), and on. Add to these, Four Points, Aloft, Westin and Element and... That the Starwood juggernaut has succeeded in defining most, if not all, of its brands – with some serious architectural renaissance along the way – is no small achievement. This, of course, remains an ongoing endeavour and the renewed focus on China will add fresh, and welcome, Asian flavour.
American biggie Hilton caters to every whim from its decadently luxurious Waldorf (now reinventing its salad days in Asia) down through the businesslike Conrad and increasingly blurred Hilton family on to Double Tree, Embassy Suites and Hampton Inn. Once Pan Am's proudly fluttering flag around the globe, InterContinental spans everything from its eponymous line, to Crowne Plaza (a devilishly meandering concept for business suits), Indigo (local flavour and pop art for the upwardly mobile and iPad manacled), Holiday Inn (that is being refreshingly recast in Asia), Holiday Inn Express for the down at heel, and EVEN Hotels (described in terms more arcane than a wine menu, "for business and leisure travellers who maintain a healthy and active lifestyle and are looking for a complete wellness experience at a mainstream price point"). Even I don't get that.
With all the burden of heritage and old world sophistication, Europe has not proved immune to the clone-some-more virus. French giant Accor, responsible for the budget ibis, also runs the fashionably upscale Sofitel (where "life is magnifique"), the rambunctiously restless So, Novotel, Suite Novotel, Mercure, Grand Mercure and MGallery. It does attempt to modestly restrain the diaspora by categorising offspring as luxury, upscale, midscale, or economy. You might just as easily wag a finger at your kids telling them, "Your sister has an MBA and will be a CEO; you run the laundry business." Everyone wants to move up the value chain regardless of background or ability and, incredibly, luxury hotel brands are racing downhill to flirt with luxe lite and low-cost linen with far less than 400 thread count Egyptian cotton.
Could this be a case of too many cooks? There is a real risk of the foie gras being inadvertently mixed up with hamburger and dim sum as the management pyramid grows and pressures mount to pursue a common business language and economies of scale. Horsemeat in beef has already arrived. Brands, like nations, follow endless cycles of decentralisation and centralisation, the former appealing to consumers, and the latter to managers and accountants who lean towards "efficient" unified processes.
Again, with an online focus on bookings rather than building brand image (which is going to drive all those bookings), major hotel chains are in effect going extinct while upstarts cavort. Ironically, the single biggest hurdle to booking a hotel is the surfeit of booking engines
It may be argued that quality and quantity need not be contradictory ideals, yet a stubborn few have refused to board the Balkanized-brand bandwagon. Among their ranks are the likes of Four Seasons, Peninsula, Raffles, Mandarin Oriental, and the younger Swire Hotels, that offer top-drawer travellers a single concept without excessively clever or irksome guff. Four Seasons did for a while piggyback on local legend Regent to gain a foothold in Asia after which, like any sensible widow spider, it consumed its partner to preserve its own freshly fortified identity. What was left of Regent did a Terminator-style android self-healing to be reborn as Regent Hotels & Resorts, now headquartered in Taipei, and still resolutely high end.
At Aman Resorts, less is more and you are unlikely to accidentally topple and crack some priceless bone china vase set irksomely in the way – not as part of the décor, but to bluntly remind you how posh the setting is and to steel you for the pain when the bill arrives. Stays at any Aman are the antithesis of a hotel sojourn. People address you by name and there is no criminal cross examination at checkout on whether you dipped too deeply, and secretively, into the contents of your mini-bar.
Simple as it sounds, this sort of "mono branding" actually works. Focusing on a single product means a hotel can polish an idea and ratchet up service to tease out the sort of lustre so hard to find at many establishments. The Mandarin or Peninsula marquee stands out and is immediately recognised by any discerning suit regardless of accent, taste or gender. Raffles focuses on "emotional luxury" with frequent flashes of gloriously pickled nostalgia. Club Méditerranée (or Club Med) just does family vacations with muscled staff with necks like tree trunks and, at one time, coloured beads for money (that kids promptly flushed down the toilet).
GHM, which started out as a multi-product ensemble now mines a single top-drawer vein with several gems in its bag that have redefined service standards with a design expression very much rooted in the local landscape. Now it heads to China where its joint venture Anh Luh plans to fashion a distinctive Chinese brand, positioned well above the domestic bedroom wars with their ersatzEuro frippery, to compete with the best. Mono branding can get extreme too. One of the more entertaining examples is the erstwhile Contiki Resort Bali that billed itself as a fun zone exclusively for white-collar cool 18-35s. The young and restless came, saw and speedily vanished. It's more fun when dad foots the bill.
Unlike Jumeirah and One&Only that have followed the luxury model, big Asian hotel brands like Taj and Oberoi in India, and Dusit and Centara in Thailand have opted for a diverse portfolio. In an age where market hegemony is both an aspiration and a survival imperative, hotels see much to gain and too much to lose in not advancing fresh concepts for new pockets of travellers.
Keeping things simple is an art – a lost one apparently. As Albert Einstein famously quipped, "If you can't explain it to a six-year-old, you don't understand it yourself." And design genius Leonardo da Vinci put it thus: "Simplicity is the ultimate sophistication."
This is not to say that brand segmentation is idiocy. Consumer diversity must be recognised. But at the end of the day, travellers want good beds, attentive service, tasty nosh, fast and free internet, hot showers and a useful location. Wrap this up and serve it day in and out and, boring as it may seem, you have a sellable brand.
Small boutique and budget hotels do well online because they are simple (so everything exceeds expectations). But their real strength is their prepubescent guests who spend their entire days flicking iPad screens uploading pictures of food, rooms and cheesy V signs, thereby serving as monstrously chatty brand ambassadors. Luxury brands coddle white-haired gerontocrats who may send a handwritten postcard to surprise mum who will in turn surprise them with the blunt Alzheimer's retort, "And who the hell are you sonny?" The budget boutique gets an instant audience of thousands per visit with constant word-of-mouth amplification while the huge muscle brand gets one, perhaps. This is of course an over-exaggeration and we wish everyone's mum a long, happy, postcard-strewn life, but it underlines a basic point.
Again, with an online focus on bookings rather than building brand image (which is going to drive all those bookings), major hotel chains are in effect going extinct while upstarts cavort. Ironically, the single biggest hurdle to booking a hotel is the surfeit of booking engines. Through an inadvertent combination of sheer volume, poor web design, and occasional legerdemain, online vendors have displaced the "brand", thus putting sales at risk. This is killing the goose that lays the golden eggs. Why? Booking sites do not build brands, they sell rooms using a time-honoured bait – price. Yet, consumers must want a brand before they choose to buy it.
Consistency is ever harder to find as new hotel brands and sub-brands proliferate. But any gap, even a perceived gap between expectation and experience, means the customer is gone, snatched by the whirlwind of online choice. Consistency remains the Achilles heel of a hospitality business plagued by erratic franchise operations and hard-to-find trained staff especially in places like China where huge hotel projects that defy any sane economic argument simply Hoover up qualified personnel – and fussy grads too.
Would you marry the devil you know or some schizophrenic with 15 unique and unpredictable personalities? Sybil, sybil, SYBIL, Sybil… Take your pick.
---
Vijay Verghese started out as a reporter for the Times of India, a national daily, in 1979. He moved to Bangkok and thence to Hong Kong in 1984 as editor and publisher of a range of news, business, travel and lifestyle publications including Business Traveller, HOLIDAY Asia, and Asian Business. He launched Dancing Wolf Media in 2002 and runs the online magazines SmartTravelAsia.com and AsianConversations.com when not dabbling in avatars, music and virtual guff.