Samsonite in a snit
Bags of room for airport security improvement. And why shopper herds fly south to Alabama, and not just in winter.
By VIJAY VERGHESE
Hong Kong, August 2016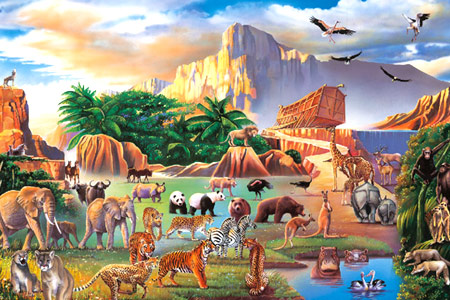 They didn't miss their boat and, heck, that was a long queue...
THERE has been a great gnashing of teeth over the much publicised US airport security screening delays in recent months. Hold-ups of three hours or more meant thousands of passengers missed their flights. Many still do, though bottlenecks have been partially eased. Hapless American Airlines reported that in the first few months of 2016 alone over 70,000 of its passengers had missed their flights and 40,000 bags had gone AWOL as their intended flights could not wait. As Kerry Philipovitch, American's senior vice president for customer experience put it to a House committee, "To say customers are agitated is putting it mildly."
Less agitated was the Transportation Security Administration, which argued, somewhat feebly, that cheaper fares at holiday periods created a surge in passengers, resulting in an unhappy convergence of staff shortages (read cuts) and surplus passengers. There have been pre-screening miscalculations too. (To speed things along, enrolled passengers deemed low-risk do not need to remove their laptops, shoes, belts and liquids. A US$85 fee covers a five-year enrolment.)

Vijay Verghese
---
Orphaned luggage ends up being sold in warehouses like the 40,000sq ft facility in Scottsboro, Alabama - over 7,000 new unclaimed items arrive daily...
We'll leave it to the TSA to sort out its math but the figures are staggering. In 2015, the TSA screened over 708 million passengers, or around 1.9m per day.
Protesting passengers are often at fault. Despite all the publicity and terrifying DO-NOT signs at airport security, travellers insist on smuggling aboard prohibited items ranging from the pure white-knuckle panic-button to the preposterous. Think tadpoles in the mouth (Guangzhou), chastity belts, terrapins in burgers, snakes stuffed in trouser pockets, tiger cubs packed with stuffed toys (Bangkok), and even the corpse (Liverpool) of a 91-year-old gent carted on a wheelchair by puzzled old biddies, who exclaimed, "We thought he was asleep."
And what is this fascination with guns? The TSA blog of 10 June says in the preceding week alone, 67 firearms were discovered in carry-on – 54 of them loaded. The top cities for gun incidents? Dallas, Atlanta, and Houston. Asking why this happens is like scratching your head over Donald Trump's ascendancy in a free poll. It defies sane logic.
Here are some TSA prohibited – and permitted items. One box of safety matches is actually allowed in carry-on baggage but none are permitted in check-in bags. Of course it goes without saying that you will be sternly admonished for attempting to bring on-board 'personal' items like hand grenades, fire extinguishers, and dynamite, but you can bring along battery-powered e-cigarettes and vaping gear, guitars and musical instruments (depending on airline restrictions), ice skates, rollerblades, and small dogs and pets. Remember to take your pooch out of the dog-carrier when it goes through the x-ray machine. Your pet goes through the metal detector with you.
I recall a lively trip to Saigon in the days when the airport was just grinding into some semblance of operation. A farmer with a heap of outsize bags, all tied together with bits of rope, was motioned towards the x-ray machine. He grinned toothily, walked over, and leapt on the conveyer belt, prostrate, arms outstretched. A few of us grabbed his feet before he disappeared into the maws of that monstrous prehistoric contraption, while security officers guffawed and slapped their thighs.
Goods confiscated at airports, entertainingly termed 'Voluntary Abandoned Property', end up with state-run surplus companies or online auction sites.
This is not the same as unclaimed 'orphaned' luggage that ends up being sold in warehouses like the 40,000sq ft facility run by aptly named Unclaimed Baggage in Scottsboro, Alabama. The company buys and sells stuff and claims over 7,000 items come into its possession daily from planes, trains, trucks and automobiles to be sorted, cleaned, appraised, and sold. It's called 'repurposing' another wonderfully American term. Find everything here from golf clubs to shoes and jewellery. Sadly, the store cannot help you track your own lost baggage and the 'repurposed' stock legally belongs to them.
In the UK, lost, unclaimed, or even stolen items will find their way to auction houses like Greasbys and Baggage Auctions. In Sydney Pickles Auctions adds lost airport loot to its list of items from vehicles to salvaged items and general goods. In Asia too, airports end up clearing unclaimed bags – usually after a period of six months or more – through local auction houses.
Just remember when you fly or drive down to Scottsboro to pick up all this cut price gear – including perhaps your 'orphaned' dentures, if not your pet python – DON'T leave your bags on the plane. And remember to CLAIM your bags at the carousel, unless they didn't make it.
---
Vijay Verghese started out as a reporter for the Times of India, a national daily, in 1979. He moved to Bangkok and thence to Hong Kong in 1984 as editor and publisher of a range of news, business, travel and lifestyle publications including Business Traveller, HOLIDAY Asia, and Asian Business. He launched Dancing Wolf Media in 2002 and runs the online magazines SmartTravelAsia.com and AsianConversations.com when not dabbling in avatars, music and virtual guff.