A Tale of Two Women, or Three...
As the battle of the sexes hots up the American presidency enters the debate and sozzled travellers ponder what exactly is politically correct and when to cry wolf.
By VIJAY VERGHESE
Hong Kong, February 2018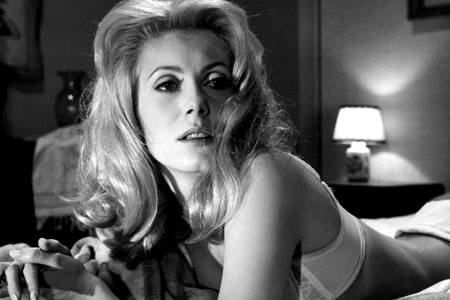 French screen icon Catherine Deneuve has a different point of view on men and their frailties
I RECALL back in 1984 when I first came to Hong Kong, a French lady friend asked to be shown the notorious Bottoms Up topless bar in Tsim Sha Tsui, Kowloon, where a scene in the James Bond film Man with the Golden Gun was shot. We had a beer while I shifted on my perch uncomfortably, trying not to make eye contact with the voluptuous ebony Trinidadian serving drinks from the middle of the small circular bar.
Spotting my discomfort my friend turned to me. "Do you think it's wrong to use your body to make money?" I mumbled and sipped my drink. "Some people use their brains to make money," she continued, "others use their bodies, and why not?" The simple unassailable Gallic logic was delivered with a shrug and a bemused smile.
I had the opportunity to revisit the issue some years later while interviewing Pat Sephton the colourful manager of Bottoms Up and a former Windmill girl from London. She considered the question, slowly pulling a feather boa across her bare shoulders and blew me a kiss. The Hong Kong courts sided with Victorian prudery – and irate neighbours – and the club was forced to remove its raunchy neon sign on Hankow Road next to the then Hyatt Regency, which also later fell to the wrecking ball. Bottoms Up moved across the harbour to Wanchai, as a sports bar, faded into obscurity, and disappeared. Ms Sephton and her feather boa having touched four score and ten years unscathed were laid to rest in 2017 and an era came to a close.

Vijay Verghese
---
"Some people use their brains to make money," she continued, "others use their bodies, and why not?" The simple unassailable Gallic logic was delivered with a shrug and a bemused smile...
The #MeToo movement has spread, and with surprising intensity, like wildfire, ferreting out dark secrets, flushing out child molesters and all manner of power-addled predators. There has been an outpouring of stories, many shocking, some unimaginable, from big screen celebrities like Gwyneth Paltrow, Ellen DeGeneres and Meryl Streep to a vast contingent of US Olympic women gymnasts preyed upon in youthful years.
Names have been named, people shamed, and others dragged to court. It is a subject that has grabbed headlines and hearts, bringing people together, and setting others apart as in the America-Europe divide over the meaning of feminism that has exposed a deeper attitudinal divergence.
The Continental drift (largely French) has been away from America, seeking to view incontinent men in indulgent light, less harsh than the inquisitorial all-men-be-damned frisson consuming television across the pond.
A whole lot of people innocently caught in the expanding #MeToo crosshairs will have heaved a sigh of relief as European womanhood marched to their rescue with the celebrated Catherine Deneuve joining 100 French women in an open letter to Le Monde that took a gentle swing at "puritanical" Americans. "Rape is a crime," the letter stated, but clumsy or awkward flirtation "is not an offense." The letter went on: "Men have been punished summarily, forced out of their jobs when all they did was touch someone's knee or try to steal a kiss."
Predictably, Ms Deneuve's comments sparked a wave of outrage as they were immediately interpreted as condoning male bad behaviour.
Talk show diva Oprah Winfrey receiving her Golden Globes lifetime achievement award, weighed in on Hollywood with heartfelt if scripted candour and was promptly drowned out by a chorus of fans demanding she run for president. Normally hard-headed CNN commentator Van Jones described her as the "most beloved human being on earth" while another said she was exactly what America needed right now, a "force for good". It is an indication of the beating America has taken in the past year that the process of defining and selecting an American presidential candidate has sunk to platitudes and posture rather than substance, experience, and economic, political or governing knowhow.
Former Obama campaign strategist David Axelrod struck a sober note, writing, "She [Oprah] would have to overcome the doubts of Americans who may be more jaundiced about celebrity presidents after the Trump experience. Experience in government – at any level – may come into vogue."
Ms Streep and Ms Deneuve's exchange shines a light on the relationship between men and women in all industries, not just Hollywood. It is a universal issue. The travel world, once dominated by powerful males but steadily yielding to the emotive influence of women, has its share of stories. It is a business obsessed with make-believe romance and faux pomp intended to maintain various myths, chiefly that high living means getting legless on unaffordable vintage Krug, passing out on priceless Frette linen, and waking up with a godawful hangover and no recollection of the good times. While it is easy enough to fall through the trapdoors of indiscretion given this heady brew, this image is becoming a tough sell in an increasingly politically correct world.
Whatever happened to cheap plonk – some mildly lip-puckering Beaujolais nouveau could do – apple pie, and meandering walks in the hills?
Regardless of profession, there's no question that while several step over the thou-shalt-not line with impunity and must be taken to task, many are simply responding to the biological imperative wired into their DNA or following the Biblical injunction to go forth and multiply. Men and women are attracted to each other. It is the basis of life, and evolution and there is no gainsaying this. Nature is not politically correct.
Travel is about suspended disbelief to borrow a literary phrase. You step from everyday land to fantasy land where anything can happen. It is a blurred border across which we should cross with eyes wide open. Best to pack a modicum of common sense in the bag before stepping out. Or carry a copy of James Finn Garner's manic Politically Correct Bedtime Stories where the wolf "ate [Red Riding Hood's] grandma, an entirely valid course of action for a carnivore such as himself. Then unhampered by rigid, traditionalist notions of what was masculine or feminine he put on grandma's nightclothes and crawled into bed."
---
Vijay Verghese started out as a reporter for the Times of India, a national daily, in 1979. He moved to Bangkok and thence to Hong Kong in 1984 as editor and publisher of a range of news, business, travel and lifestyle publications including Business Traveller, HOLIDAY Asia, and Asian Business. He launched Dancing Wolf Media in 2002 and runs the online magazines SmartTravelAsia.com and AsianConversations.com when not dabbling in avatars, music and virtual guff.