Dance through any emergency
Airline safety videos go viral with humour, animation, karaoke, and sassy dance moves.
By VIJAY VERGHESE
Hong Kong, January 2014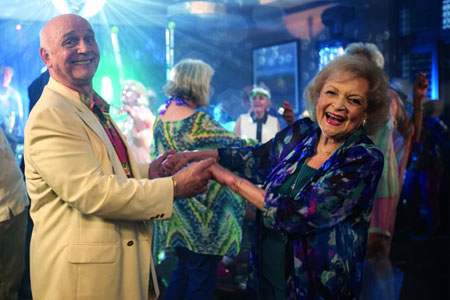 Betty White shows seniors still have the edge in Air New Zealand's new inflight safety video
WE'VE all seen the video countless times. In case of an emergency the oxygen masks will drop. Don yours first and then, fully recharged as a responsible adult, smack some kids around, moon your neighbour, and ask the stewardess for her number one last time. Or something like that. Problem is, few people pay attention. They should. Lives depend on it.
Flying Royal Brunei several years back, in the dawn of time – pre-iPhone that is – the screen projection simply showed angry black clouds with occasional shards of light shooting menacingly forth. This unsettling visual was accompanied by a deep-voiced and sombre narrative with English subtitles that said something like, "Greetings fellow travellers, we shall reach our destination, God willing." I was riveted. "Who's flying this plane?" I wanted to ask. "Is there a pilot on board?" I was as alert as I have ever been. And that's what an airline safety briefing is all about. Face-time. Like many others, RBA has since switched to 3D animation.
While it is commonly put out that an average wide-body aircraft can be evacuated in 90 seconds, the on-ground reality is different, for the simple reason that human reaction is highly unpredictable along with issues like smoke, fire, aircraft damage, weather, the presence of mind of cabin crew, the number of elderly or disabled passengers, and people who even in the face of death will try to lug their duty-free and Hello Kitty suitcases off the plane. While Kitty may have nine lives, travelling mortals, have just one.

Vijay Verghese
---
On top of the must-watch table is Air New Zealand, which has been prolific with its inventive clips ranging from body-painted crew to disco and hobbits
No matter what the simulation drill, real life tends to circumvent most hypotheses.
Take the case of a Qantas B747 that initiated an emergency evacuation at the gate at Sydney airport on 2 July, 2003, after an external fire was detected. Four passengers were injured during the evacuation via chutes in what was a fairly controlled situation. One chute was punctured, presumably by a deplaning passenger's luggage or sharp heels. It deflated and failed. In contrast, that same year, when a British Airways B777-200 landed short of the runway at Heathrow and ploughed into the grass, all 136 passengers were plucked out safely from the wreckage.
The more recent Asiana B777 crash at San Francisco with 307 passengers on board on 6 July, 2013, saw all but three escape from the debris and flames, one of them tragically run over by an emergency vehicle. Female members of the cabin crew were cited for bravery after carrying people out on their backs moments before flames engulfed the plane. There is a fine line then between fortuitous fate and fatality. Video replays of that disaster also showed several less heroic passengers emerging from the carnage nonchalantly trundling their roller bags.
Now airlines want to fully engage their passengers as they point out exits and safety features on aircraft. From dancing stewardesses delivering karaoke instructions to video cartoons and comedy, airlines are trying it all to get passengers to look. Airline safety videos have morphed into an entertainment genre and you could rate them for cinematography, storyline, choreography, graphics, and acting talent.
Firmly on top of the must-watch table is Air New Zealand, which has been prolific with its inventive clips ranging from an animated line-drawing cartoon to outrageous high camp disco, and even hobbits. Far removed from the world's bowdlerising gaze, Kiwis clearly have no taboos when it comes to warming Dolly the cloned sheep on a snowy evening or pushing the envelope on safety videos. The airline's brilliantly irreverent format has raised chuckles and garnered more than a few fans as with this hilarious senior romp featuring Betty White from Golden Girls and a giddy geriatric cast.
Virgin America set smartphones ablaze with its safety dance clip, a clever and smooth, high octane mix of rap, R&B, and high kicks, the choreography moving breathlessly from seat belts and life jackets to aircraft exits. It's the sort of slick production – with just the right mix of humour and information and fast-changing sets – that can hold the most jaded passenger's attention, and go viral outside the cabin.
Southwest opted for fast-paced rap, while a 2008 Delta safety video showcased the undiscovered cinematic talent – and impeccable dental whites – of air hostess Katherine Lee, who smiled, charmed, cajoled and teasingly wagged her finger at the camera to point out smoking was a no-no. This cameo catapulted the comely Ms Lee to minor celebrity status on Twitter.
In a multilingual environment where jokes – unlike the H7N9 bird flu virus and the Abu Sayyaf – don't cross borders with ease, Asian airlines prefer good old-fashioned music and dance. No one does this better than Philippines budget airline Cebu Pacific whose sassy catwalk production with upbeat foot-tapping music has kept passengers enthralled. Fly Dubai has meanwhile invested in a bold 3D cartoon that just stops short of outright humour, with Sri Lankan Airlines also opting for simpler animation.
How about slapstick mixed with a bunch of sports celebrities and a few shapely women in uniform? The formula always seems to work. And it is exactly this finely calibrated cocktail that is served up by Turkish Airlines. It has borrowed some Manchester United football heavies who horse about aloft, in good natured fashion of course, grabbing attention without missing any safety features.
For a real eyebrow raiser, however, there's Air New Zealand's earlier bare essentials sketch that started tamely enough until you realised the crew were wearing nothing but expertly daubed body paint. A bolder version came out in the airline's nothing to hide commercial, advertising the best fares on the block.
Wonderful parodies flaying airlines' penchant for miscellaneous charges are churned out constantly, but walking down memory lane, this Lufthansa 1980s safety drill for the A300 is tinged with nostalgia, almost bordering on a Bogart movie, especially when those oxygen masks drop and passengers are advised to extinguish their cigarettes. No smoke without ire. Happy New Year.
---
Vijay Verghese started out as a reporter for the Times of India, a national daily, in 1979. He moved to Bangkok and thence to Hong Kong in 1984 as editor and publisher of a range of news, business, travel and lifestyle publications including Business Traveller, HOLIDAY Asia, and Asian Business. He launched Dancing Wolf Media in 2002 and runs the online magazines SmartTravelAsia.com and AsianConversations.com when not dabbling in avatars, music and virtual guff.