Are you safe on
cloud nine?
A look at airline safety records and incidents - statistics, science and stunts.
By VIJAY VERGHESE
Hong Kong, April 2013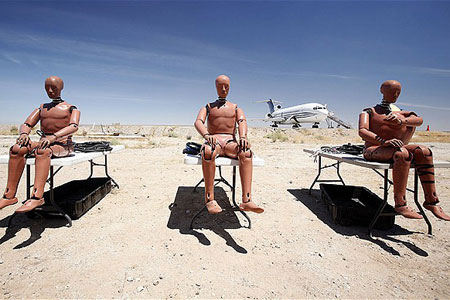 Britain's Channel 4 pulled a crash-landing stunt complete with a host of ill-starred crash test dummies packed into a 170-seat B727. Stunt? Or science? - Photo: Channel 4
THE delightfully ghoulish site AmIGoingDown.com was an instant hit in the early days of the Web with its quirky and queasy statistical odds of survival on various air routes. Presented with alarming candour were your chances of arriving whole the other end, based on the particular airline's track record and the vagaries of the route – ie, a mountain inconveniently in the way, or a landing strip overrun by a herd of hippos.
Airline safety, like sex, sells. In October 2012, Britain's Channel 4 staged a macabre stunt - crashing a 170-seat B727 into the Mexican desert. The plane was packed with crash test dummies - three with human bones - and online visitors were invited to select seats and later "watch" the crash landing to see how they fared.
Much is said about the journey rather than the arrival but it is good to know whether you are going to arrive at all. As with many small sites with more derring-do than dollars, AmIGoingDown.com was taken over, lobotomised, and put to pasture, but the baton has been picked up by German think tank JACDEC (jet airliner crash data evaluation centre).

Vijay Verghese
---
Of the 60 airlines in the 2012 air safety survey, Taiwan's China Airlines is at the bottom with eight incidents and 755 fatalities since 1983. Ranked a lowly 58, Air India – one of the oldest Asian airlines – has emerged a vocal critic of the general methodology
Airlines that publicise haute couture and hot cuisine aloft are understandably coy about engine failures and emergency landings. I should know. I strapped my bawling kid brother – an embarrassingly reluctant pilot – into a homemade model aeroplane made of bamboo and plastic and launched him from a high place to witness firsthand the awesome power of gravity, and his speedy, unwaveringly vertical descent into a rosebush. The plane was a write off. My brother survived. In 1962 I enlisted his services once again and lured him into my father's suit cupboard, telling him he was leaving Mumbai for Mars. "Will I be back for dinner?" he enquired, as I slammed the doors shut. This remarkable experiment, establishing a clear link between ballistics knowhow and bullies, ended with my father's sudden return home and the budding Indian space programme never quite recovered. No one advertises mistakes or reversals. And travellers are a fickle lot.
While an imprecise science at best, the JACDEC annual airline safety ranking makes interesting reading. Airlines are rated based on their safety records over the past 30 years with penalties for "hull losses" (aircraft written off after crashes), frequency of incidents, and passenger fatalities measured against revenue passenger kilometres.
Of the 60 airlines ranked in the 2012 air safety record survey, Taiwan's national carrier China Airlines is at the bottom with eight incidents and 755 fatalities since 1983. Ranked a lowly 58, Air India – one of the oldest Asian airlines with operations dating back to 1932 – has emerged a vocal critic of the methodology used pointing out, rightly, it had just one crash over the Atlantic in June 1985 as a result of not pilot or mechanical error but terrorist action. That single incident claimed 329 lives. Singapore Airlines, which was involved in a Taipei runway mix-up during a typhoon that resulted in a crash at take-off with 83 lives lost on 31 October, 2000, is ranked 30th, just ahead of low cost AirAsia in 29th spot. Malaysia Airlines is placed 35th, Jet Airways (India) 37th, with Russia's notorious Aeroflot in 39th position. Bringing up the rear are Asiana (South Korea) in 46th place, with Japan Airlines 47th, China Southern 48th, THAI Airways International 53rd, Turkish Airlines 54th and Korean Air 56th (with 687 fatalities).
Qantas, widely regarded as the world's safest airline, is placed in 13th spot with Japan's All Nippon 12th, British Airways 10th and Taiwan's EVA 6th. So who were the front-runners? Top of the bunch with the best safety record according to JACDEC is Finnair, with zero crashes and zero fatalities since 1983. Ranked second and third respectively are Air New Zealand and Cathay Pacific (Hong Kong) with a similar record. Emirates ranks fourth and Etihad fifth. And how did the large US carriers fare? Delta ranked 28th, United 31st, and American Airlines 42nd (with 10 incidents and 587 fatalities).
Of course, there are significantly more than 60 airlines worldwide and any true global ranking would change the pecking order considerably with several carriers listed here appearing in far better light.
Without standardised aircraft maintenance standards across the globe it is hard to measure safety levels with any degree of accuracy. Research conducted by the Embry-Riddle Aeronautical University, Florida, examined 467 accidents from 2000 to 2007 to concluded that older commercial planes, commonly 15 to 24 years in service, were more likely to crash when operated in Latin America, the Middle East, and Africa.
While the United Nation's International Civil Aviation Organization favours diplomacy and engagement with civil aviation organizations around the world to establish universal airline safety standards, regional blocs like the European Union have often acted unilaterally to block specific carriers from entering their airspace.
The list of airlines banned from operating into the EU is vast, from Angola, Sudan, Republic of Congo and Ghana to Afghanistan (including national carrier Ariana), Philippines (Ayala Aviation, Island Transvoyager, Zest), Indonesia (Lion Air, Surya, Gatari) and the Kyrgyz Republic. Other notables include Iran Air, Air Astana (Kazakhstan) and Air Madagascar. Garuda recently regained its licence for the EU.
Airline trade magazines often level criticism at national carriers like Avianca, Iran Air, Pakistan International Airlines, Egyptair, Kenya Air, and Philippine Airlines among others. And any online search for air safety will throw up more alarming scuttlebutt than fact. Yet, statistically, air travel remains the safest mode of transport and not just because there are fewer planes than cars.
Passengers in search of distraction might sample the crooning and dancing stewardesses of Cebu Pacific (featured here "performing" the safety demonstration) or endangered bikini parades aboard Vietjet (the Vietnamese carrier was fined US$1,000 for this unsanctioned show). There is a bright side after all. Happy New Year of the Snake.
---
Vijay Verghese started out as a reporter for the Times of India, a national daily, in 1979. He moved to Bangkok and thence to Hong Kong in 1984 as editor and publisher of a range of news, business, travel and lifestyle publications including Business Traveller, HOLIDAY Asia, and Asian Business. He launched Dancing Wolf Media in 2002 and runs the online magazines SmartTravelAsia.com and AsianConversations.com when not dabbling in avatars, music and virtual guff.